About the event
Tunerfest South is an annual Summer celebration of tuning, modification and performance and now an occasion that's become firmly etched in the car-show calendar.
Initially scheduled for it's regular time of year in June, the on-set of Covid-19 and the consequent national restrictions that came into affect meant the show could not be run on it's tradtional date. Therefore, Tunerfest South is joining forces with Go Japan! – another Time Attack promoted event that takes place at Brands Hatch. We're therefore anticipating a truly memorable occasion for everyone involved, even though it will look a bit different this time around in order to mitigate and control any transmission of the Coronavirus.
The Tunerfest concept was introduced in 2015 to showcase modern and iconic performance cars from around the world. Working in partnership with two of the country's most famous circuits: Brands Hatch (Tunerfest South) and Oulton Park (TunerFest North) both events are designed to appeal to the serious modified car owner. And for 2019, a third event was added to the calendar: Tunerfest Midlands at Donington Park.
Brought to you by the promoters of Time Attack, at Tunerfest South you will see some of the fastest and uniquely tuned cars both on and off the track. The show embraces everything that the modern tuning scene has to offer: from fierce competition on the circuit, to public track time, representation on site from more than 70 car clubs with over 1700 cars on display, plus exhibitors that include leading aftermarket tuners, parts and accessory suppliers. This combination of on-track action and off-track spectacle setting Tunerfest South apart from any other show of its kind in the UK.
There's plenty of trade stands and a range of other attractions, including the ever-popular Show and Shine competition that is as much about modification and performance as it is a great paint job.
And of course, there's the awesome Time Attack action on the circuit, the event hosting round four of this year's Championship. The technical nature of the Brands Hatch Indy circuit make it a firm favourite with the drivers – and, because from certain vantage points you can see almost a whole lap of the track, it's a favourite with spectators too!
Be in no doubt that there's some serious machinery in operation running in the Time Attack Pro Classes, with power outputs reaching in excess of 1000hp! Whilst in the Club classes, you'll see road specification cars that are tuned and driven like you've never seen them before.
Included in the all-day circuit action are a series of demonstrations that take place in between the competitive sessions. Circumstances permitting, this may include a collection of awesome sounding F1 and F3000 cars – a rare sight indeed – plus a spectacular display of the art of Drifting. It's a motorsport discipline that is rarely seen on the sacred tarmac of Brands Hatch nowadays and the section of track from Surtees, through McLaren, Clearways and Clark Curve will see some of the most exciting (and fastest) demonstrations ever seen.
Adding ot the action, there may be a couple of races too!
After its hugely successful introduction last year, the whole event will be live streamed on the Time Attack Facebook page. Live timing and information can be found on the following websites:
Time Attack Championship: www.timeattack.co.uk
Tunerfest South: south.tunerfest.co.uk

About Brands Hatch
One of the world's most iconic sporting venues, Brands Hatch plays host to an impressive variety of prestigious motorsport events on both two and four wheels and is the home of Time Attack.
A natural amphitheatre offering unrivalled views of the action from various vantage points, Brands Hatch is known as Britain's best loved motor racing circuit. And you can experience it for yourself with a renowned programme of driving experiences and trackdays on offer.
Venue Facilities
Brands Hatch has well equipped and modern facilities throughout the venue.
If you have any questions regarding Brands Hatch as a venue and its facilities, please call or email the circuit directly using the details above.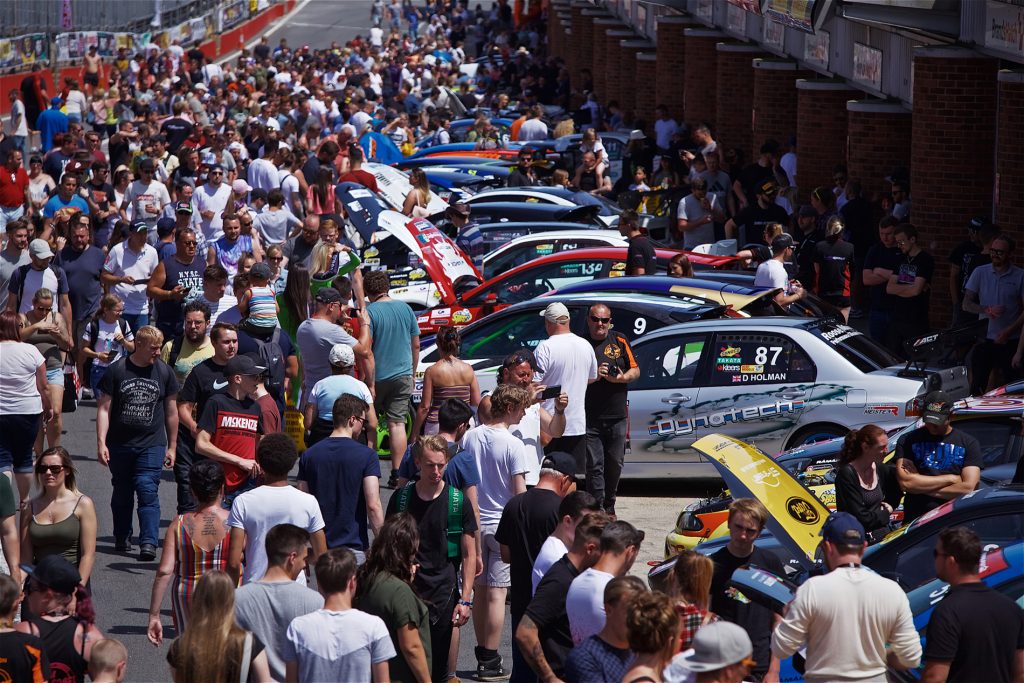 Provisional Timetable
07.00: Gates open to clubs and traders
09.00: Gates open to public
Time Attack Warm up
10.00 – 10.15: Pocket Rocket/ClubClasses
10.20 – 10.35: Pro Classes
10.40 – 10.55: RWYB – Session 1
11.00 – 11.15: Tegiwa Challenge – Qualifying
11.20 – 11.35: Drift Demonstration 1
Time Attack Practice
11.40 – 11.55: Pocket Rocket/Club Classes
12.00 – 12.15: Pro Classes
12.20 – 12.35: RWYB Time Attack – Session 2
12.40 – 12.55: JDM Legends Parade 1
12.55 – 13.40: LUNCH BREAK
13.00 – 13.10: Fuujin GT-R Drag Demo
13.40 – 13.55: Public Track Time Session 1
14.00 – 14.15: Drift Demonstration 2
14.25 – 14.40: Tegiwa Challenge – Race 1
14.45 – 15.00: JDM Legends Parade 2
Time Attack Qualifying
15.05 – 15.20: Pocket Rocket/Club Classes
15.25 – 15.40: Pro Classes
15.45 – 16.00: RWYB – Session 3
16.05 – 16.20: Drift Demonstration 2
16.25 – 16.40: Public Track Time – Session 2
16.50 – 17.05: Tegiwa Challenge – Race 2
Time Attack Finals
17.10 – 17.25: Pocket Rocket/Club Classes
17.30 – 17.45: Pro Classes
17.50 – 18.05: RWYB – Session 4
Please note: Times are subject to conditions and circumstances on the day.
Directions / How to find Brands Hatch
Brands Hatch is situated on the A20 near West Kingsdown. Just 3 miles from junction 3 (Swanley) of the M25, it is linked via the A20 to the M20 and M25/26 motorways.
Regular services to Swanley station operate from London Victoria.
Brands Hatch Circuit
Fawkham
Longfield
Kent DA3 8NG
Tel: 01474 872331
Fax: 01474 874766
FAQs
What are the show opening hours?
Public opening hours are 0900-1830hrs. Car Clubs and Traders can arrive from 0700hrs
What time does the action start?
On and off track content starts from 0900hrs and finishes at 1830hrs
Can I park my car in the club displays in the show area?
Yes but you need to book yourself and your club in with us in advance, please use our clubs booking page to do that.
Are there places to eat and drink on site?
Yes there are food and drink vendors as well as a circuit cafe. The food is a high quality affair with modest pricing, there will also be ice creams etc. Within the cafe there is also a licenced bar overlooking the circuit.
No sorry they are not permitted on site but if you want to come with a picnic and refreshments of your own there are plenty of very nice grassed areas and woods around the venue to sit down and enjoy the action with friends and family.
If I am using my car in a Public Tracktime session do I still need to buy an entry ticket?
Yes, all visitors must have an entry ticket regardless of the activities when on site.
Whats the latest time to buy an advanced ticket?
Advanced tickets are on sale until 12noon on Wednesday before the event. After that day tickets may only be purchased on the gate. Please see our ticketing section for information and pricing.
Can I pay by credit/debit card?
Yes you can buy your tickets online until the Wednesday before the event and we also take cards and cash on the gate during the event.
Yes all visitors have access to free parking inside the venue in designated areas. If you wish to come with your car club and have exclusive show parking, please go to the clubs page.
No sorry, as it's race track therefore pets are not allowed except for guide dogs.
I've bought tickets online but they haven't arrived yet, what should I do?
Advance tickets are handled by the circuit [ MSV ] directly. They charge and post the tickets to you by recorded delivery. If you need to chase up things, please contact the circuit using the details that were provided to you when you purchased the ticket.